Book Review # 22: Everything, Everything by Nicola Yoon
Copy: E-book
Number of Pages: 320
Date Published: September 1, 2015
Publisher: Delacorte Books for Young Readers
Rating: 
My disease is as rare as it is famous. Basically, I'm allergic to the world. I don't leave my house, have not left my house in seventeen years. The only people I ever see are my mom and my nurse, Carla.

But then one day, a moving truck arrives next door. I look out my window, and I see him. He's tall, lean and wearing all black—black T-shirt, black jeans, black sneakers, and a black knit cap that covers his hair completely. He catches me looking and stares at me. I stare right back. His name is Olly.

Maybe we can't predict the future, but we can predict some things. For example, I am certainly going to fall in love with Olly. It's almost certainly going to be a disaster.
This was a book I expected to read in one sitting, a book whose readers were left speechless. This was a book that made me interested, a book that everyone seemed to love, a book that I expected to love, BUT expectations not met lead to a lot of disappointments. And now here I am, raving or ranting, whatever you could call it. This review will probably pit me against a lot of people, but oh well.
Madeline Whittier has a rare disease. She has SCID. I will spare you the tedious task of googling.
SCID, Severe Combined Immunodeficiency, is a primary immune deficiency. The defining characteristic is usually a severe defect in both the T- & B-lymphocyte systems. This usually results in the onset of one or more serious infections within the first few months of life. These infections are usually serious, and may even be life threatening, they may include pneumonia, meningitis or bloodstream infections. Children affected by SCID can also become ill from live viruses present in some vaccines. These vaccines (such as Chickenpox, Measles, Rotavirus, oral polio and BCG, etc.) contain viruses and bacteria that are weakened and don't harm children with a healthy immune system. In patients with SCID however, these viruses and bacteria may cause severe, life-threatening infections.
Basically, our protagonist has lived in her home for 18 years, and by lived I mean she has never gone out to see the world. Here's the interesting part. A new family moves in next door one day, and her eyes automatically track a boy her age. She thinks this boy is amazing. She thinks this boy will change her life, but is that something she can handle?
What I didn't like about this book
Everything happens way too fast: My book peeves have always included (1) less detailed back stories, and (2) rushed endings. By some miracle, this book has managed to do both.
Character development or lack thereof: What happened? I understand there were some unfortunate circumstances. Things were moving quite well. So I waited, and waited, and waited, but nothing happened. The novel ended, and I didn't feel an ounce of what I'm supposed to feel (sympathy, maybe?) for any of the characters. Why is this titled Everything, Everything? It might as well have been Olly & Maddy (and some insignificants) vs. the world.
It tries to be a lot of things:  This is young adult. Yes, you can add events that would spice up your story, but this book tried too much, that everything became half-done. It tries to be a book that travels. It tries to be informative. It tries to make readers fall in love (This it manages to do a little effectively), then it tries to be creepy and suspenseful. The indecisiveness almost pushed me over the edge, but my record of not DNF-ing any book has kept me from doing the inevitable.
That plot twist: I don't understand why people worship the plot twist. It was incredibly sloppy. This book, after its failed attempt of trying to be a lot of things, then becomes depressing. Okay, I understand. There's a reason for this, right? Then, when I'm all settled and braced for the conclusion, it squeezes some supposedly profound and unexpected twist to arrive at an ending that is completely underwhelming and forced beyond words.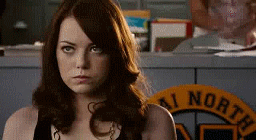 What you might like about this book
The format: Well, one thing that has made this book interesting is the format. It's very easy to read. It has at most 5 pages per chapter, and includes illustrations of both random and essential objects: receipts, documents, plane tickets, lists, etc.
It also has mini-reviews and spoilers from the protagonist. Oh yeah, don't read this book if Flowers for Algernon is part of your TBR. It's actually part of mine, but it's been there for so long that I didn't actually mind the spoilers. Other mentions include Lord of the Flies, Invisible Man, The Stranger, Beckett Nausea, and The Little Prince. Despite my annoyance for this book, I can vouch for the "cutesy" feels one might experience while looking at those illustrations. So yeah, that's one thing to look forward to.
Olly and Maddy: The emails and IM messages are particularly cute and sweet. I'm positive most readers would enjoy the romance between these two. On a negative note (sorry, word vomit) they remind me of a half-done Dash and Lily from Dash and Lily's Book of Dares.
That cover. Well, it looks good.
Now, don't be sad. Here's something cute to liven up your spirits
"What colour are your eyes?
Olly (O): blue
Madeline (M): Be more specific please
O: jesus. girls. ocean blue
M: Atlantic or Pacific
O: atlantic. What colour are yours?
M: Chocolate brown.
O: More specific please
M: 75% cacao butter, dark chocolate brown
O: hehe. nice"
It pains me to say, but I don't think I'll recommend this book to anyone anytime soon. The only thing that spared this book from a one-star rating is the format. It's almost as if I'd rather have read a picture book.
Some quotes I found appealing
Sometimes I reread my favorite books from back to front. I start with the last chapter and read backward until I get to the beginning. When you read this way, characters go from hope to despair, from self-knowledge to doubt. In love stories, couples start out as lovers and end as strangers. Coming-of-age books become stories of losing your way. Your favorite characters come back to life.
I decide then that love is a terrible, terrible thing. Loving someone as fiercely as my mom loves me must be like wearing your heart outside of your body with no skin, no bones, no nothing to protect it.

"I have no patience for books that pretend life has a meaning. I have no patience for happpy endings.

My guilt is an ocean for me to drown in.